Posted on: 11th February 2020
The South East Area Fisheries Local Action Group (SEA FLAG) is pleased to announce that the Northern Ireland Fisheries Harbour Authority (NIFHA) has recently installed two refrigerated bait stores, one at Ardglass Harbour and the other at Portavogie Harbour, funded through Union Priority 4 of the European Maritime and Fisheries Fund.
The new chilled storage facilities are welcomed by the local creel fishermen in the local fishing communities. With the benefit of the refrigerated storage, this will protect and preserve the quality of the bait assisting to maximise the lifespan of the resource and maximise efficiencies.
Mr Kevin Quigley, NIFHA Chief Executive commented "I am delighted to receive funding from SEA FLAG, the Department of Agriculture, Environment and Rural Affairs (DAERA) and the European Union. The central chill stores will enable the fishermen to increase the length of time bait is viable, increase the security and protection of the bait and will also reduce its potential for contamination. I am confident the facilities will have a positive impact on the local creel fishermen of Ardglass and Portavogie."
SEA FLAG Chair, Alderman Angus Carson stated, "Following the success of funding in 2014 for a similar project, this demonstrates the commitment from SEA FLAG to provide such provisions. By providing shared refrigerated stores at the harbours, it will address one of the needs of our local fishing dependent communities. The cost efficiency and reliability can be improved for the creel fishermen based in Ardglass and Portavogie, helping sustain small coastal fisheries."
Alderman Carson continued, "I would encourage everyone who feels they may benefit from this financial support to contact the SEA FLAG office to discuss potential projects."
SEA FLAG supports projects which impact the fishing dependent communities of Ardglass, Kilkeel, Portavogie and surrounding areas. The fund supports a broad range of projects which focus on job and business creation, economic growth, social inclusion and providing support to the fishing dependent communities. Funding can be sought under the themes of; Diversification, Adding Value, Social Inclusion, Environmental and Building Capacity.
For further information please contact a member of the SEA FLAG team on 0330 137 4051.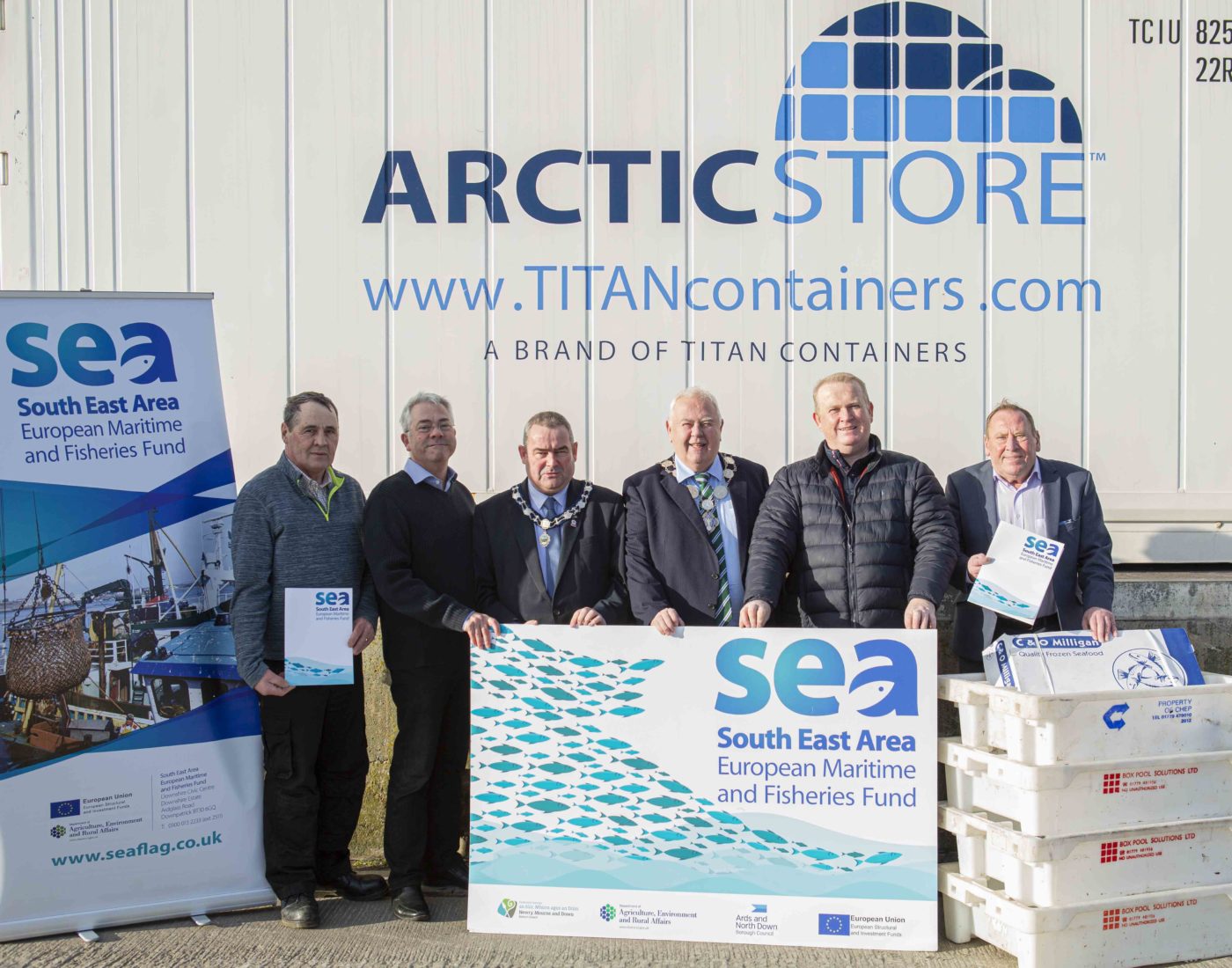 Pictured from Left to Right: Eddie Robinson, Portavogie harbour master; David Lindsey, Northern Ireland Fisheries Harbour Authority project manager; Councillor Terry Andrews, vice-chairman of Newry, Mourne and Down District Council; Alderman Bill Keery, Mayor of Ards and North Down Borough Council; James Kelly, representative of Portavogie Inshore Crab Fishermen; and Alderman Angus Carson SEA FLAG Chair.
---
Back To News