Posted on: 6th February 2019
The South East Area Fisheries Local Action Group (SEA FLAG) has recently issued the first Letter of Offer through Union Priority 4 of the European Maritime and Fisheries Fund.
The Fisheries Local Action Group is pleased to announce Copas Technologies Limited, based at Kilkeel harbour has been awarded grant assistance of £112,500. Through this grant award, Copas Technologies Limited can diversify into additional markets for the aeronautical industry, in particular structural components.
Shaun Copas, Managing Director stated "Copas would like to thank, DAERA and SEA FLAG programme for their valued financial support. This grant aid has assisted Copas in purchasing our new 4 Axis Horizontal Milling machine. This Machine will increase our capabilities and efficiencies within this sector, allowing us to offer 3, 4 and 5 axis milling. We employ over 35 highly skilled operators within our team, which contributes over £1.2million annually into the local South Down economy. This project has created an additional 3 full time positions with a further 2 roles in the near future".
SEA FLAG Chair, Alderman Carson welcomed this project, stating "SEA FLAG is delighted to approve the first project for funding. Copas Technologies is a significant employer for Kilkeel and I welcome an additional 5 new jobs for this fishing dependent community".
Alderman Carson continued;
'We are looking forward to inviting a wide range of applications and would encourage everyone who feels they may benefit from this financial support to contact the SEA FLAG office to discuss potential projects."
SEA FLAG supports projects which impact the fishing dependent communities of Ardglass, Kilkeel and Portavogie. The fund will support a broad range of projects that focus on job and business creation, economic growth, social inclusion and providing support to the fishing dependent communities, including diversification of activities within fisheries and into other sectors of maritime economy.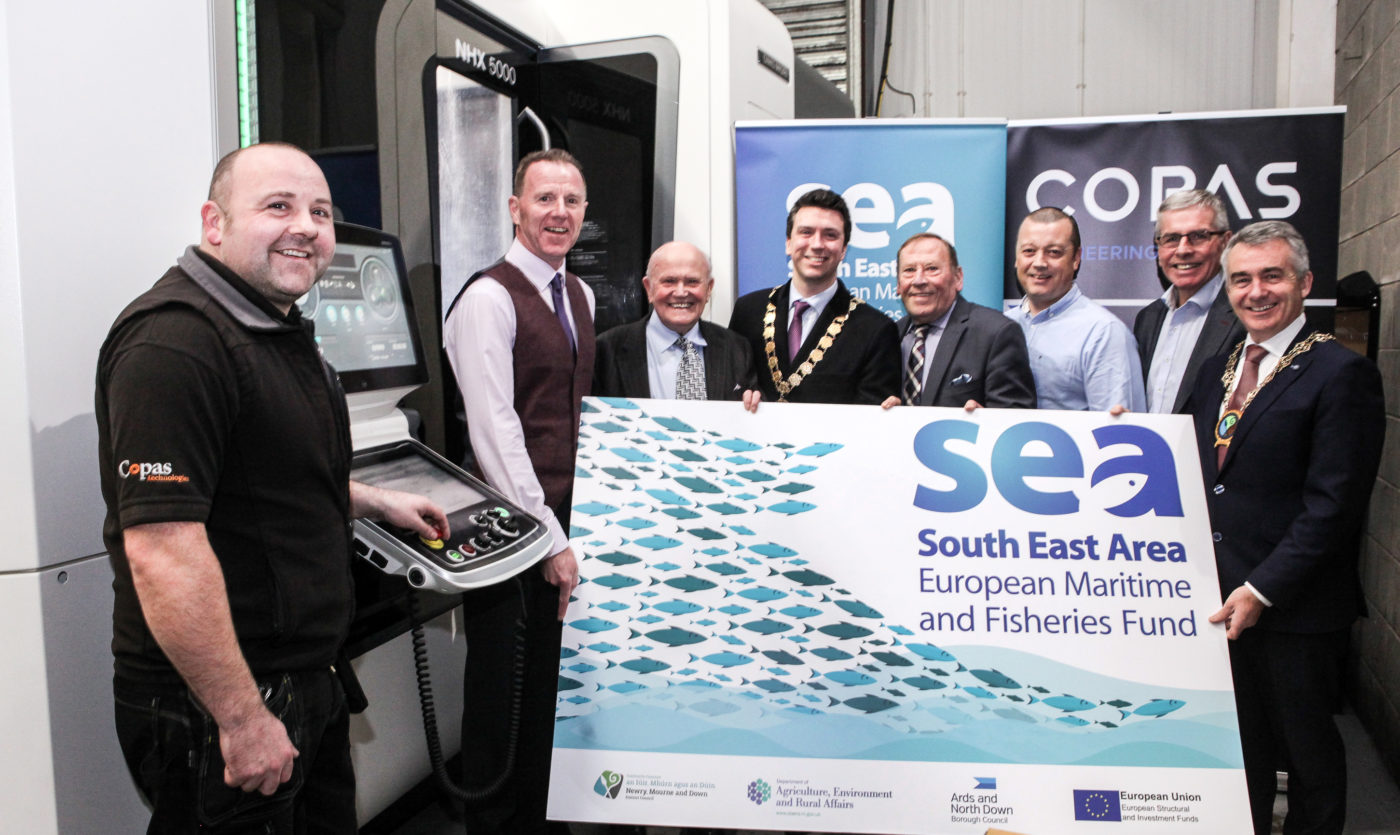 Part-time Ardglass skipper Collum Crangle demonstrating the new investment to SEA FLAG members, Chairperson of Newry, Mourne and Down District Council, Councillor Mark Murnin and Mayor of Ards and North Down Borough Council, Councillor Richard Smart.
Left to Right: Collum Crangle (CNC Machine Operator, Copas Technologies Ltd), David Vint (SEA FLAG member), Gordon Coulter (Consultant), Councillor Richard Smart (Mayor of Ards and North Down Borough Council), Alderman Angus Carson (SEA FLAG Chair & Ards and North Down Borough Council), Shaun Copas (Managing Director, Copas Technologies), James Cunningham (SEA FLAG Member), Councillor Mark Murnin (Chairperson Newry, Mourne and Down District Council).
---
Back To News